Specifications of Toyota C+Pod
The Toyota C+pod (stylized as C+pod) is a two-seater battery electric kei car manufactured by the Japanese automaker Toyota. Its design was previewed by the Ultra-Compact BEV concept car from October 2019, and its production form was revealed on 25 December 2020. The first batch will be for sale limited to corporate users, local governments and other organizations in Japan. It will be sold to individual customers in 2022.
Due to its dimensions, it qualifies under the kei car dimension category in Japan. It is the latest vehicle not to use up the maximum dimensions allowed for by the kei car regulations after the Subaru R1.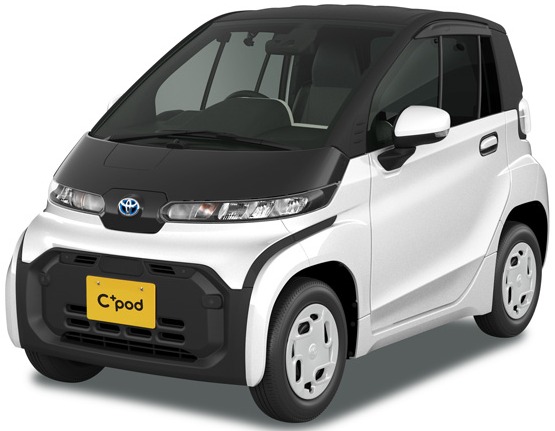 Main Specifications
Grade
G
X
Vehicle category (Road Transport Vehicle Act)
Minivehicle
Ultra-compact mobility (type approval)
Length x Width x Height
(mm)
2,490 x 1,290 x 1,550
Wheelbase
(mm)
1,780
Track
(mm)
Fr: 1,105 / Rr: 1,095
Minimum ground clearance
(mm)
145
Vehicle weight
(kg)
690
670
Minimum turning radius
(m)
3.9
Capacity
(seats)
2
Motor
Type
1RM (Permanent magnet electric motor)
Rated output
(kW)
2.6
Maximum output
(kW)
9.2
Maximum torque
(N・m)
56
Main drive battery
Type
Lithium-ion battery
Capacity
(Ah)
51
Total voltage
(V)
177.6
Total power
(kWh)
9.06
Range on single charge
WLTC mode, Class 1 test cycle
(km)
150
AC electric power consumption rate
WLTC mode, Class 1 test cycle
(Wh/km)
54
Charging time
Standard charge
Single phase, 200V/16A
Approx. 5 hours (Fully charged)
Single phase, 100V/6A
Approx. 16 hours (Fully charged)
Maximum speed
(km/h)
60
Suspension
FrStrut coil spring suspension with stabilizerRrTorsion beam type coil spring suspension
Brakes
FrDisc brakesRrLeading/trailing shoe type drum brakes
Tire size
155/70R13 75S